Fredericksburg Experienced / Creative Stylists and Hair Colorists
At Cool Looks Salon Studio, we are very passionate about hair and truly love what we do. By constantly attending classes, attending the major Intenational Hair Shows, and in house training, Cool Looks Salon Studio stays up to date with current Trends, Styles and Techniques around the world. From the classics to cutting edge trends, from simple to advanced cutting edge techniques, we do it all for all genders, ages or ethnicity. We are experts in the more advanced cutting techniques such as Razor Cuts, Dry Cuts, etc. Our Experienced Stylists and Expert Colorists take their time during consultations to communicate with you, so you can rest assured that you will get the exceptional results you desire. Our Colorists will go over and above the normal coloring chart given to us by the vendor, and can actually customize (combine colors together) to create a custom color suited for you. This Coloring formula is recorded and can be duplicated in the future if need be. You might say…we are "perfectionists" at what we do.
Our Stylists and Colorists take sort of a holistic approach when working on your Hair. Prior to washing your hair, your Hair and Scalp are thouroughly analyzed. We will show you what we uncover if anything shows up! We firmly believe that what good is having your hair Cut and Colored nicely only to neglect your hair's health!  Common Salon practice disregards Hair's health until at one point it reaches the point of damaged status. Consider this carefully before choosing your Stylist!
Please be sure to check out our Colorist Packages to take advantage of the packaged discounted prices. Also note that Bridal Packages are available upon request, our prices are surprisingly reasonable!
We LOVE Challenges and are Eager to Meet Your Expectations.
 We Fully Stand Behind our Work, All our Cuts and Color are 100% Guaranteed!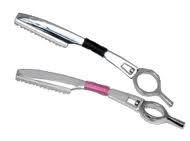 HAIRCUTS:
Men, Women, Children  
Color Packages
Style X-press
(Recovery treatment, cut & blow dry)  
Shape-Up
(Recovery treatment, cut, blow dry, eyebrow wax)
Color X-cape
(One color, recovery treatment, cut & blow dry)
Trendy Lights
(Partial foils, recovery tx, glazing, cut & blow dry)
NY Lights
(Full foils, recovery tx, glazing, cut & blow dry)
Northern Lights
(Full foils + x-tra color, re-tx, glazing, cut & blow dry)
UPDOS
Designer
Bridal
*** All Hair Services/Treatments except for Updos include a Shampoo with our unique deeply therapeutic five (5) minute scalp massage. ***