Permanent Makeup Solutions
 Quality Permanent Makeup Solutions in the Fredericksburg | Stafford and surrounding areas
Quality Permanent Makeup Solutions are being performed in the Fredericksburg | Stafford and surrounding areas. The procedure is performed by a Licensed VA Esthetician, with many years experience working with Permanent Makeup .  Along with this, she brings  20 years of working Medical Experience and the Artistic Creativity to give you the results you desire. 
Permanent makeup is requested for many specific reasons but generally these reasons fall into two basic categories: 
1.   To enhance existing imperfections and create a natural looking illusion 
2.   For convenience purposes
Either way the end result is pretty much the same.  Picture yourself waking up without having to perform the endless routine of preparing eyebrows, eyeliner, lipstick ,  where now you can be spending this extra time on other things, perhaps sleeping in. You no longer have to worry about smudging after swimming, showers, perspiration; you simply will always look made up without the extra effort.  Now combine this with the steep costs associated with purchasing makeup and it is not surprising the demand for Quality Permanent Makeup Solutions here in the Fredericksburg VA | Stafford VA area as well as any other areas has been rapidly increasing!
What exactly is Permanent Makeup: 
Permanent Makeup also known as Micro-pigmentation or Cosmetic Tattooing, consists of placing natural pigments (color) under the upper layers of the skin using a small Pen-Like tool. The results of Permanent Makeup create a naturally painless lasting result that lasts for years.  Permanent Makeup is  similar to tatooing, but is much less invasive  and differs in the types the of color used  crearing a  much more subtle approach than conventional tatooing.
Is the Treatment Safe?
 Permanent Makeup is a very minor procedure,  but still we follow the strictest of regulations.  Our Office, and the equipment used complies with all relevant health and safety requirements. All needles are disposable, sterile and of the highest quality.  Sterilization and hygiene are of the utmost importance before, during, and after our treatment.
Eyebrows: (Our Specialty)
Eyebrows are the cornerstone to any perfect face, they support and complement the eyes, and play a large part in  facial expressions. Eyebrows that are exceedingly sparse or missing entirely at birth, genetics, improper plucking, or scars, can definitely be enhanced by providing a natural permanent eyebrow. Eyebrows are not just marked on, but are drawn in a very detailed form showing the fine hairs, and blending in with your existing brows thus making it difficult to distinguish between our work and naturally prepared brows.
Eyeliner
Permanent Eyeliner is placed within the upper or lower Lash Line emphasizing your eyes and making your lashes appear darker and fuller. The exact color or thickness can be customized according to your wishes.
Lips
Thin, unsymmetrical, and color-faded lips; unfortunately, only a few of us were born with perfect lips. Besides genetics, and the environment, the aging process can cause our lips to age faster than skin on any other part of our body, and,  lips can actually appear to get smaller. This is a normal part of aging process. Permanent Makeup can be a great solution to fix the problem. Stunning- sexy lips are created by adding natural color where needed, achieving instant fullness and definition. Subtle corrections can be made to thin, uneven or unsymmetrical lips and the size and shape can be altered as desired. Facial lines around the mouth are instantly camouflaged and best of all lipstick bleed will become a thing of the past.
Areola Restoration, Scarring, Color matching and other misc procedures
Permanent makeup can be applied to areolas to hide scars left behind after surgery, including producing a new areola in the case of mastectomy. Discolorations of the skin can be covered with permanent makeup, adding color to the areas that lack color thus disguising  the problem.  Please contact us for other specific requests.
All appointments in our Fredericksburg office are precluded by an extensive Consultation which is designed to provide qualified prospective clients information about the procedure, maintenance, and expectations etc. , and also to screen for clients with certain medical conditions who should not have Permanent Make up (see Faqs section).
Your decision to do Permanent Makeup can be a stressful and emotional one.  It is critical when working with areas like eyebrows, for proper placement, alignment, and correctly shaded colors, otherwise,  this could ruin your result.  At Cool Looks Salon we understand this and with this in mind, our technician will actually draw in your eyebrows with a semi- permanent material in the same manner in which you decided during your consultation. This will allow you to actually temporarily experience your results for a few days and note concerns that you may have before they are made permanent. All too often we have seen clients who rushed into the procedure and noted after the fact that their placement and / or symmetry, or color was off.
Our procedure includes a free follow up visit approx 1 month from the day you had the procedure for any touch up work that may be necessary. 
  Important Instructions Following our Procedure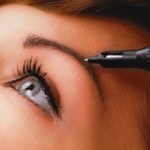 Eyebrows – Please refrain from picking, or self peeling, while they are healing (usually between 7-10 days before it starts to shed). Do not apply any additional makeup to the area while they are healing. Pat Vaseline on with a clean finger and splash only water on them during the healing process.  You will experience 30% to 50% fading with the 1st application.
Eye Liner – Apply a light coat of Vaseline with a Q-tip before washing your face in the PM and wipe excess off with a damp cloth.  Continue this process for 4 days.  You can wear mascara on the tips of your lashes in 24 hours if you purchase a new tube, otherwise don't wear any eye makeup for 4 days.  You will experience 30% to 50% fading with the 1st application.
Lips – Immediately following the treatment there may be some swelling.  This will usually last no more than 24 hours.  Apply Vaseline to lips throughout the day whenever they feel dry.  You will experience dryness, similar to chapped lips.  Do not force peel lips when they start to peel.  You will experience 30% to 50% fading with the 1st application.
For further information, or for setting up a free Consultation give us a call at (540) 786-4639 .