Brazilian Blowout Hair Treatment recently ruled Carcinogenic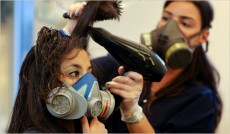 It's now official, just a little over a week ago the maker of the very popular Brazilan Blowout products have agreed to change their labeling to warn consumers that Formaldehyde gas  is released during treatements with this product.   Formaldehyde gas is a known Carcinogen  and can also cause various other issues.  Court evidence  showed that  these products were deceptively labled as Formaldehyde Free , when they actually contained from 8 – 10% of this dangerous gas. 
 It was only a matter of time, issues had been showing up in Salons with beauticians,  and customers for years now,  and numerous health complaints have been filed ranging from severe  headaches, nosebleeds, blisters, burning eyes, vomiting, asthma attacks and other respiratory problems.  In addition, according to a well know doctor interviewed on the CBS Early Show, it was divulged  that the person getting the treatment may be at harm months afterwards when the chemical on the hair starts to break down.  Brazilian Blowout is one  brand of Brazilian Keratin Hair Straighteners that were first popularized in Brazil,  but have been available in U.S. salons for several years now. The Blowout procedures costs can vary from $200.00  up to $600.00 or more in some Salons. but we believe costs for these questionable products may be falling as consumers look for alternative solutions.
 How to select Safe Straightening/Keratin Treatment Alternatives

  
There are a variety of other treatments  that claim they are Formaldehyde free and that produce as good as a result as the  Brazilian Blowout \ Brazilian Keratin Treatment products.   If Formaldehyde exposure concerns you, then you  must be cautious that  the product  your Salon uses  really does not contain Formeldehyde.   Brazilian  Blowout, and perhaps other similar Brazilian Keratin products may not outrightly show to contain Formaldehyde in their labeling,   so,  how do you know if it does contain this substance?
As for Brazilian  Blowout,  it contains Methylene Glycol which is the liquid form of Formaldehyde.  This when heated produces the dangerous Formaldehyde gas.  Other names, but probably not all  in which Formaldehyde shows up  on other Brazilan Treatment labels are:
Formalin
Formic Aldehyde
Paraform
Formol
Formalin (Methanol-free)
Fyde
Formalith
Methanal
Methyl Aldehyde
Methylene Glycol
Methylene Oxide
Tetraoxymethalene
Oxomethane
Oxymethylene
Morbicid Acid
   Make sure the product that your Salon is using does not contain any of the chemical names above.    Finally to help ease the confusion, we uncovered a great article by EWG  showing 16 popular companies products tests of  Formaldehyde found in product.   Some of the results may surprise you!
  We are a Health Consious Salon located in the Fredericksburg VA area dedicated to provide Salon Consumers the latest information regarding questionable products and providing alternatives.  There are many alternative  Formaldehyde-Free Keratin Treatments on the market and  we  have tried  numerous brands. We now are  primarly using a product that has substituted Formaldehyde with a common ingredient normally found in foods for the straightening process,  and are having great results!